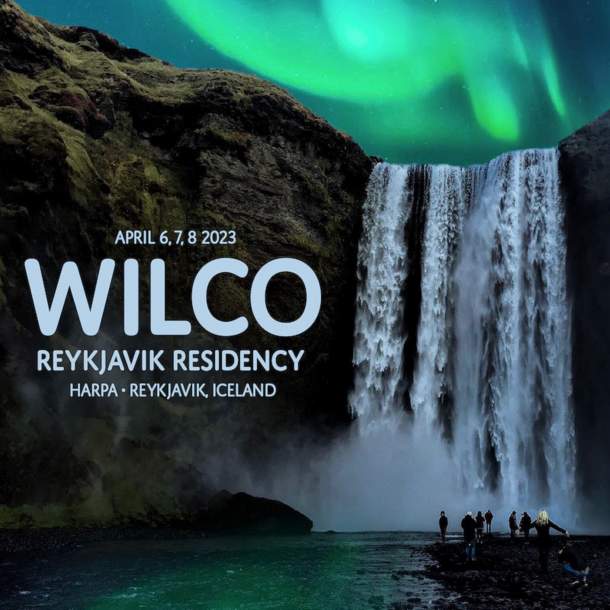 Grammy-winning band Wilco announce their Icelandic debut with a three-night residency at a world-class concert venue in Reykjavik
After spending nearly 30 years bringing their Grammy-winning brand of alternative rock to the world, Wilco will make their Iceland debut from Thursday April 6 to Saturday April 8, 2023 at Reykjavik's Eldborg Hall in Harpa.
The world-class concert hall, which won the USITT Architecture Award in 2018 for its state-of-the-art acoustic technology, is the perfect venue for Wilco's inaugural performances in Iceland. One of Reykjavik's most important cultural landmarks, Harpa has hosted a plethora of iconic acts like Kraftwerk, Pat Metheny, Bjork, Patti Smith, Herbie Hancock, Snarky Puppy, David Byrne & St. Vincent and Elvis Costello.
Wilco's three-night residency in Reykjavik represents another milestone for the Chicago-born band, who have released their critically acclaimed twelfth studio album. cruel country in May. Next, Nonesuch Records will release seven special editions of Wilco's seminal 2002 album. Yankee Hotel Foxtrot September 30, 2022. A new unreleased track from the super deluxe and deluxe editions – a live studio version of "Ashes of American Flags" from a 2001 session on WXRT Radio's Sound Opinions – is available today, August 10. "Ashes of American Flags (Live in the Studio)" is available hereas well as album pre-orders.
Wilco celebrated Yankee Hotel Foxtrot's twentieth anniversary earlier this year with two limited tours in Chicago and New York, and will soon launch a North American tour in support of Cruel Country.
The six musicians will perform in Iceland for the first time thanks to Bucket List Tours, a new concert promotion company that encourages fans to see their favorite artists at "bucket list" venues. Unlike all-inclusive resort festivals that dictate every aspect of the trip – from arrival and departure dates to dining offerings and activity scheduling – Bucket List Tours allows performers and attendees to experience these beautiful destinations from their own pace. Bucket List Tours wants bands and their fans to explore the world together on their own terms and offers ticket buyers discounted hotel and airfare rates in addition to optional group excursions.
Bucket List Tours already has a proven track record as international event impresarios. Last March, the company sold out its three Umphrey's McGee nights in Reykjavik, welcoming 1,500 people from around the world to each concert. Bucket List Tours will also bring The Disco Biscuits to the Icelandic capital for their three nights transatlantic race May 20-23, 2023.
Next April, Wilco and its fans will also share this magical experience in one of the most enchanting and awe-inspiring countries in the world, all during peak Northern Lights viewing season.