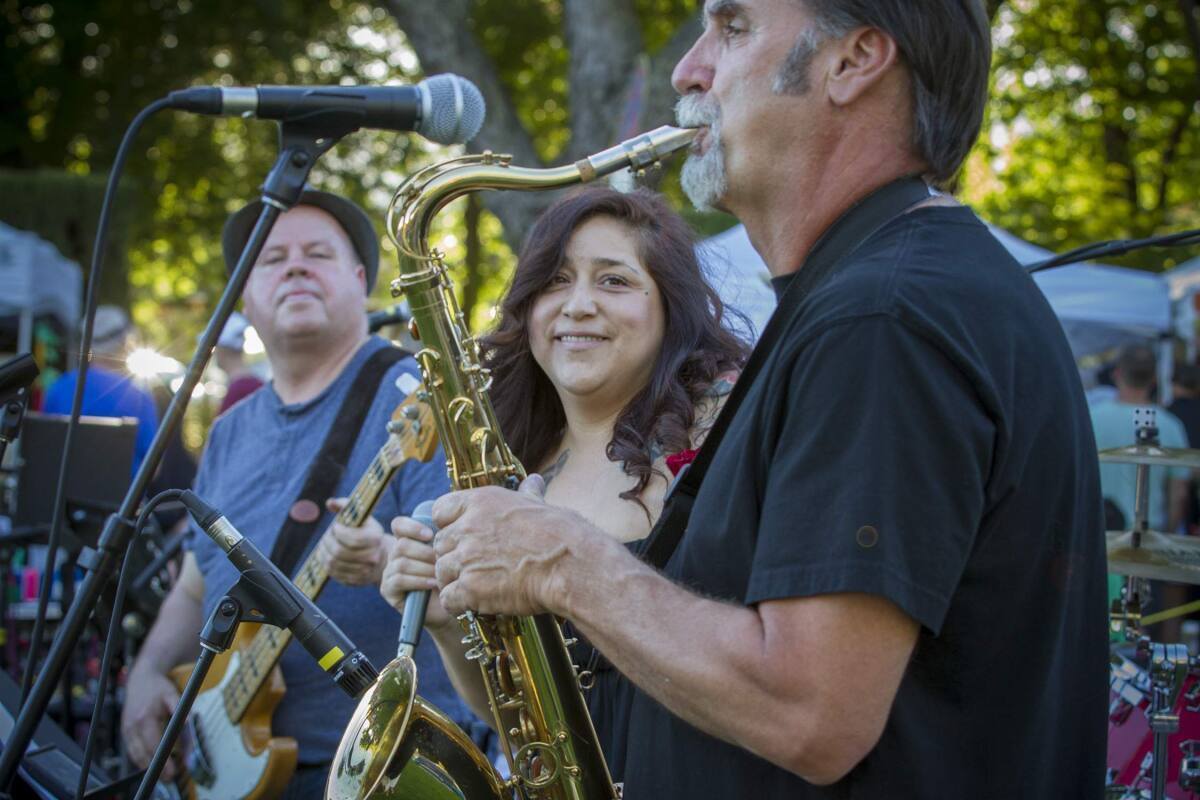 Magic the Band will rock the Tuesday Market season finale
Next Tuesday, September 27 will be the bittersweet evening we all dread, the last Tuesday night market of the season. It's not that there's no more fresh produce to pick, sell and devour. It's not that all faces have been painted. It's certainly not that there's more music to enjoy. It's just time to go inside, apparently.
Music for the closing night, climatic event – ​​the icing on the Farmer's Market Cake – will be provided by Magic the Band. These guys have closed out the series for the past five years, always leaving the crowd wanting more.
Magic the Band is an excellent group of super talented musicians led by superb drummer Jim Holland. A local daytime maker, Holland has been rocking the valley for years, both as a performer and as a drum teacher. He assembled an impressive group for this show.
Anette Moreno has been a singer in Magic for five years. The story of his first concert with the group is unprecedented and illustrates the professionalism of the musicians involved.
The story goes that Moreno received a phone call from Holland, whom she did not know. He explained that they desperately needed a singer THAT night, as the regular singer had to step down. Holland asked, "Can you learn 10 songs by tonight?" Moreno, still a pro, accepted the challenge and rightfully secured his place in the group.
Before this chance phone call, in 2014, Moreno participated in a reality TV show, "Tengo Talento, Mucho Talento". It's an internationally broadcast show, much like "America's Got Talent," featuring Spanish-speaking artists and singers hoping to be crowned rey o reina. Moreno, absolutely shocked, received fourth place, en toto el mundo!
Returning to Magic, Moreno said, "We have five or six people singing in the band. We do everything from R&B, Motown, classic rock… we even started playing Latin and disco. We cover a huge multitude of genres.
She singled out and congratulated some of her bandmates. "Don Trotta has such a beautiful voice, he is so underrated. He brings a lot to the band. Tony Malfatta is a saxophone beast!
Sean Allen who is our lead guitarist is also a vocalist. He has a great voice and he's an amazing musician. He's also an ice cream connoisseur!
I can't speak to the ice cream commentary, but Allen is an amazing guitar player. The market crowd is in for a treat, just as tasty as a double ice cream cone.
Moreno also praised his new girlfriend, Ellie James. James, formerly of Sonoma and now a resident of Los Angeles as she pursues her music career, "has been so awesome and kicked everyone into doing better," Moreno commented.
Moreno added: "There is so much talent in this group." Talented band members for the evening will be drummer and bandleader Jim Holland; Anette Moreno and Ellie James, vocals; Don Trotta, guitar and vocals; Sean Allen, guitar and vocals; Dan Walters, bass; Tony Malfatti, keyboards, sax and vocals; and Mingo Lewis, percussion.
It will be an unforgettable spectacle and a great swan song for the 2022 musical series at the Tuesday evening market.
If readers have any comments about the Farmer's Market music or the event itself, they are encouraged to send those thoughts to me at [email protected] Appropriate answers will follow.