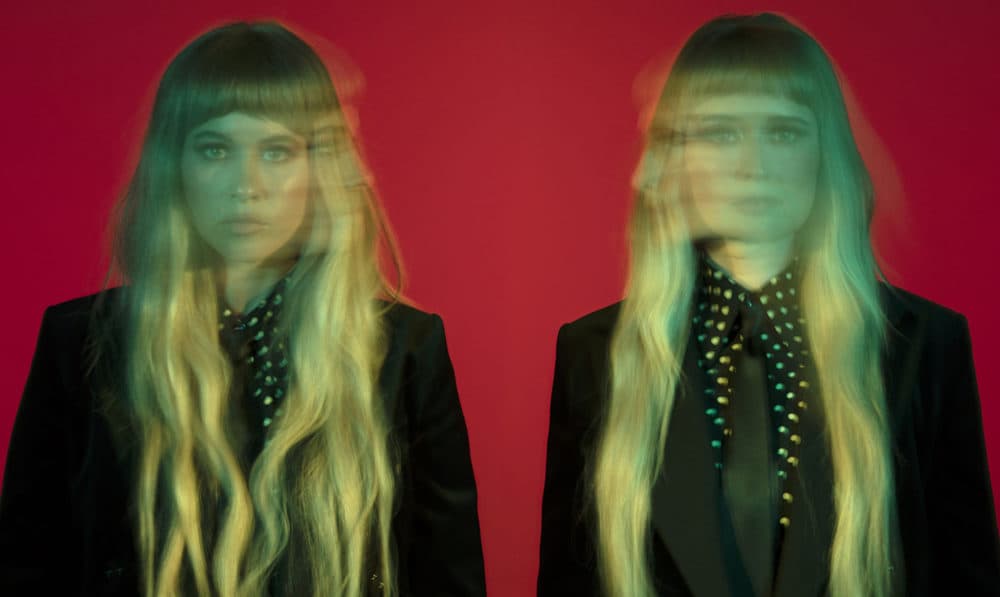 Pop group Lucius is going on tour with their new album "Second Nature"
It was six years between pop group Lucius albums and nearly four years between actual tours. But that all changed with their third studio album, "Second Nature," which was released on April 8, and a 52-date tour kicking off at Mass MoCA in North Adams on April 28 and Roadrunner in Boston on April 29.
It's a kind of homecoming for Jess Wolfe, 37, and Holly Laessig, 36, the two singers and singer-songwriters with identical hairstyles. They met at Berklee College of Music in 2003 and started singing together two years later.
He wasn't sure all of this was happening.
Although Lucius, who formed in Brooklyn in 2007, released two solid albums and achieved considerable success, things weren't looking good towards the end of 2016. Wolfe and Laessig decided they had to put Lucius down for a long nap. They were burned.
"We were touring tirelessly at the time and personally my marriage was falling apart," Wolfe said, on the phone earlier this month from his Los Angeles home. She was married to band drummer Dan Molad.
However, an opportunity presented itself to keep Wolfe and Laessig fully engaged in the music. In 2015, they joined former Pink Floyd co-frontman Roger Waters at the Newport Folk Festival, singing backup; in 2017 he asked them to join his band for a massive North American tour.
"It was a good opportunity to be part of someone else's machine," says Wolfe. "To be re-inspired, to get a different perspective and hopefully come back to the band with fresh eyes and ears. And that's exactly what happened. It felt like a step up for our fans, I'm sure, but we were exploring a different person's vision.
The pandemic and subsequent lockdown, of course, put everyone on a loop, derailing recording and touring schedules, not to mention destroying psyches. But Wolfe and Laessig have been busy singing with, among others, Sheryl Crow, Harry Styles, The War on Drugs, Kurt Vile, Ozzy Osbourne and Elton John. And they continued to work on songs during this anxiety-inducing time.
"We were writing about heavy stuff that was cathartic and therapeutic in many ways," says Wolfe. "I was going through a divorce and we were all going through this pandemic together. Everyone was stuck inside – inside themselves, inside their homes, without a community.
Wolfe and Laessig hunkered down and started writing songs at the start of the March 2020 lockdown. "It became clear that we needed something [musically] to get out of it, even if we forced it," says Wolfe. "Writing about those pretty tough times in life, what happened before the pandemic and at the start of it."
"We each have different strengths," she continues. "We've worked together for so long that we're very sensitive to each other's experience, what needs to be said and how it needs to be said, and we help each other process the song. Sometimes she'll like a song more than me or vice versa and if one of us doesn't like it, we're not going to force it in. But there's not a lot of drama between us.
This time around, it's mainly Wolfe's angst and restlessness that has been explored in the song, but Wolfe says, "Our lives are so intertwined, we write as one because we live life together. Even though we have different experiences, we witness each other. My sadness has become his, in a way.
Most musicians write music first, then lyrics to adapt them later. That, says Wolfe, is generally how the process works in Lucius, but "we don't have a formula. It certainly varies. I would say melody often comes first, mostly because as singers we want to be able to move in a certain range that feels most resonant. We often play with melodies and explore what feels good harmonically. But [the album's closing track and ballad] 'White Lies' was where the words came with the melody as we sang it.
Last year, Lucius, which (still) includes Molad and guitarist Peter Lalish, reunited in Nashville to record "Second Nature" with Brandi Carlile and her longtime producing partner Dave Cobb. Lucius was joined by bassist-synthesizer Solomon Dorsey and guitarist Alex Pfender, as they will be on this tour. (Lucius was originally set up as a quintet, but bassist Andrew Burri left the band in September 2016.)
Carlile, says Wolfe, set the bar high: "She was there to make sure we were the most epic version of Lucius we could be. She had a strong vision to make this rhythmic and soulful record that really sounded like a disco record. It was very happy.
Indeed, the first two songs on the disc, the title track and "Next to Normal" reveal a newly funky Lucius. "In a way, it was like pretend until you make it," Wolfe says. "Let's just make a dance record and dance ourselves out of the dark. And see if it actually works and it worked.
They also offered the propulsive "Dance Around It", with Carlile and Sheryl Crow adding background vocals. A key line: "Our love is running out / We'll keep dancing around it." Wolfe says it could serve as the album's theme song.
"Second Nature" is by no means strictly a dance record. As with Lucius' previous two albums, the band covers a lot of ground and challenges anyone to pin them down to a particular genre. Glittering electro-pop tunes and acoustic ballads share space with the funky numbers. References could include ABBA, Kate Bush, and Robyn — all acts Lucius loves.
"I never know what to compare us to or what to call us," says Wolfe. "I don't care what people call us or compare us to. Anything that helps identify it is fine with me.
"We always look to David Bowie as an example of art that is constantly evolving and changing," she continues. "He never did anything that you necessarily expect, or the unexpected is what you expect. I absolutely loved that, that you can be theatrical, emotional and real at the same time.
With Wolfe and Molad sharing space in the band – and with Molad co-mixing the new album – one can't help but remember Fleetwood Mac or X, bands where the couples broke up romantically but are stayed together professionally.
"I was always afraid that we would have to change bands or he would leave," says Wolfe. "I think one of the main reasons we didn't get divorced for so long was that we were afraid of losing that musical partnership. For us, it was archaic, thankfully, to think that you have to lose someone. one in your life simply because the shape of your relationship changes.
There was at least one upside to the pandemic for her and Molad. "It left space and time for healing and thankfully we came out of it with greater understanding and respect," she says.
With Wolfe and Laessig there is a transformation from songwriting to studio to stage. "We To do become something else," says Wolfe, of their performance. "Our costumes and stage sets are an extension of what we try to create musically, so we kind of become those superheroes up there. It's fun, it's unifying, it's transcendent, so you can live in a very different state of mind even though of course these songs come from a very real place. The voice we create together is really part of us, but something outside of us too, something bigger together.
When performing live, Wolfe and Laessig nearly always sing in unison—two women, one voice—often facing each other and sporting the same look, from hairstyle to couture. On this tour, she says, "There's a lot of sparkle. We dazzled our keytars, we disco-fied our drums and it's going to be epic. Our hair is our natural color – brown or ash blonde – and very, very long. The show is so much fun and yet has these heartbreaking, intimate moments, so there's a real dynamic and arc to it. People will get what they came for from Lucius. We put it there.