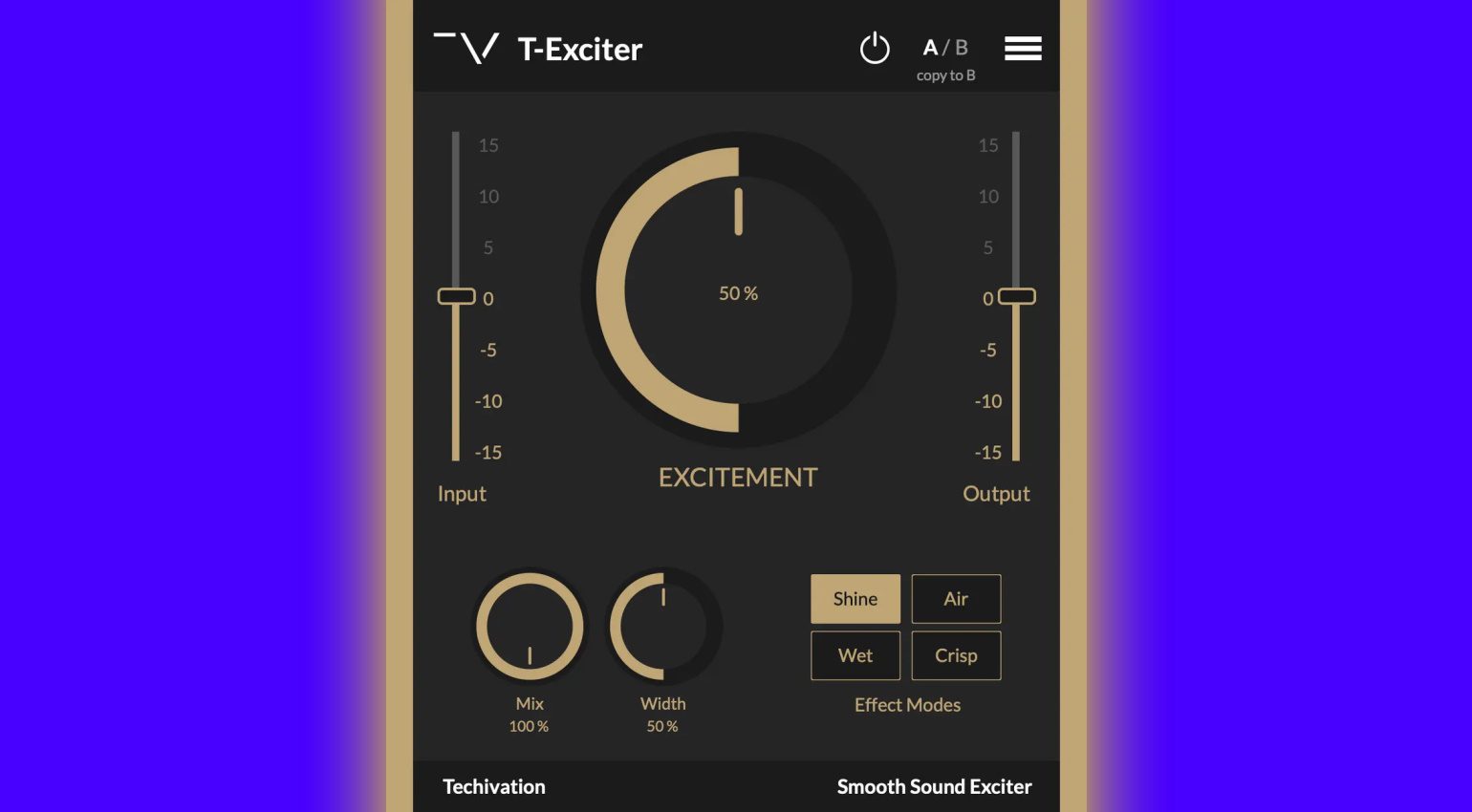 Techivation T-Exciter makes tracks nice and punchy
OK
Developer Techivation has released T-Exciter, a new plug-in in its T line of simple yet powerful effects that are also quite affordable. We love what Techivation is aiming for and think they deserve all the exposure they can get. T-Exciter brings life and energy to sounds by brightening high frequencies and adding width without sacrificing power. Here is the word…
Techivation T-exciter
There are four effect mode buttons in T-Exciter. Start by moving the main Exciter knob and you will immediately hear the effect. Then come the four modes. Each adds a different kind of excitement to your sounds:
Shine – makes sounds clearer and more detailed.
Air – adds high frequency content to make audio sound open.
Wet – sticks sounds together and adds overall excitement.
Crisp – produces sounds right off the bat and helps cut through the mix.
Also available is a Lenght tool for adding depth and width to mono tracks, tight mixes, etc. by widening the stereo image. Other features include up to 16x oversampling and GUI scaling (in percent). T-Exciter also has the typical Techivation controls which include Undo/Redo, A/B Switch and Dry/Wet Mix. The user interface follows the same minimalist and efficient principles. If you're concerned about decluttering, Techivation certainly thinks along the same lines.
T-Exciter seems to be based (in part) on the T-Clarity plug-in previously released by Techivation. While the latter focuses on frequency tuning, the exciter plug-in adds a touch of psychoacoustics to help your ears make it sound like the track you're working on is humping.
Price and availability
Techivation T-Exciter is on sale for $29instead of 39 USD. It is available in 32 (if supported) or 64 bit VST, VST3, AU and AAX plug-in formats for Windows 7+ and macOS 10.11+. There is no demo version, but you can return the plugin if you don't like it. A user manual in PDF format is also available for download.
Learn more about Techivation T-Exciter
Video